Sparrow Twin Bed - Oeuf
---
Oeuf is the lifestyle brand that is the forerunner of the new eco-design trends and that, through its products, responds with quality, functionality and style to the requests of a new generation of parents for the well-being of their children and the environment.
A winning team, with French mum and American dad, which takes its inspiration directly from children, dedicating safe, intelligent and elegant furnishings, accessories and clothing in terms of shape and style to them. The furniture is made entirely in Europe and made with ecological materials, natural pigments and a lot of respect for our planet. A simple, clean and intuitive design capable of giving the bedroom a unique and timeless elegance that makes children and adults fall in love. 
A beautiful single bed, with a clean and elegant design, that will accompany your child for a lifetime!
Coordinated with all the furnishings of the Sparrow series, with the possibility of adding a chest of drawers for washing that can become an extra bed in case of need!
Made of MDF and Baltic birch plywood, finished with non-toxic, water-based paints and free of volatile organic compounds.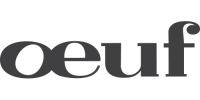 Data sheet
Height: 84 cm
Width: 95 cm
Length: 220 cm
Material: Birch wood, MDF
Mattress size (not included): 200 x 90 x 15 cm
Same category: