XL Changing Station - Oeuf
---
Oeuf is the lifestyle brand that is the forerunner of the new eco-design trends and that, through its products, responds with quality, functionality and style to the requests of a new generation of parents for the well-being of their children and the environment.
A winning team, with French mum and American dad, which takes its inspiration directly from children, dedicating safe, intelligent and elegant furnishings, accessories and clothing in terms of shape and style to them. The furniture is made entirely in Europe and made with ecological materials, natural pigments and a lot of respect for our planet. A simple, clean and intuitive design capable of giving the bedroom a unique and timeless elegance that makes children and adults fall in love. 
This plan for the child's return is suitable for Oeuf dresser with six drawers Merlin and has very useful space for the need to change the diaper. E 'is also a d' versatile furnishing element when that is no longer used as a changing table, thanks to the shelves, it becomes a shelving for storing small treasures on the wall. It equipped with hooks that allow for a more secure plan.
Mattress not included.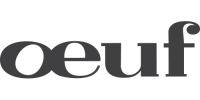 Data sheet
Height: 6,5 cm
Width: 45,4 cm
Length: 120,4 cm
Material: Birch wood, MDF
Mattress size (not included): 83 x 40,5 x 10 cm
Same category: