All-round design - Living XS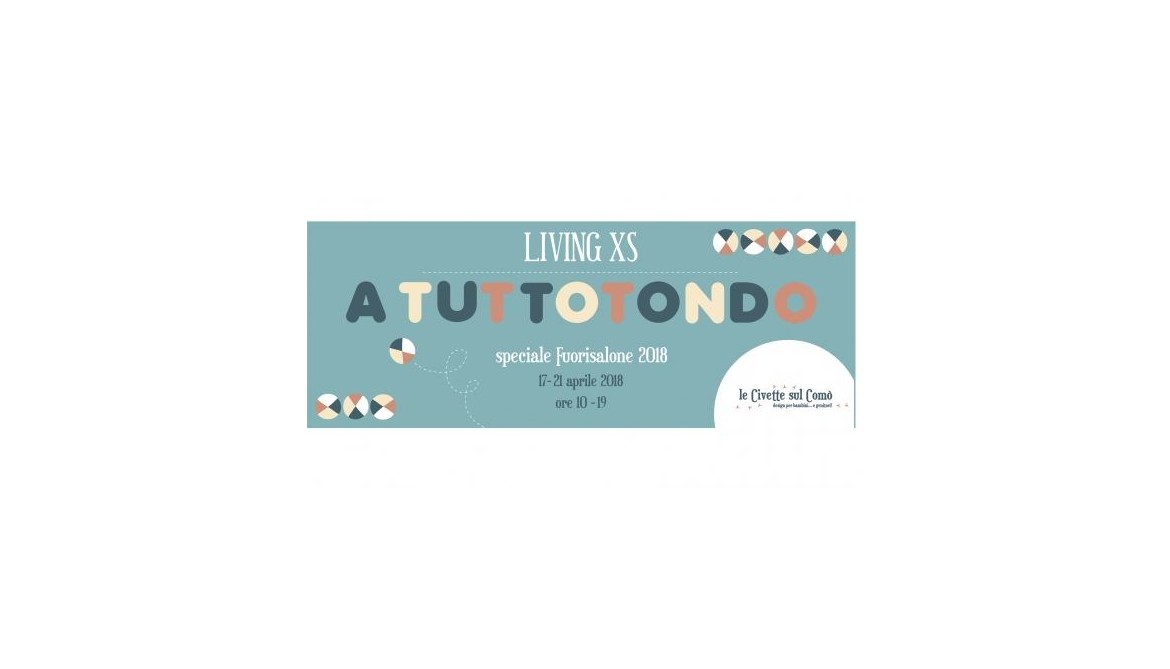 From 17/04/2018
Up to 21/04/2018
Le Civette sul Comò, for the next Fuorisalone 2018, awaits you in the showroom, with LIVING XS - all-round design. The workshop of the Owls launches another appointment related to design for children and parents, in one of the most important weeks of Italian and international design.
From 17 to 21 April 2018 in via Salmini 4, from 10 to 19, a special selection of designs for children and many new products in the field, will accompany a special guest: DRAWIN'TABLE Just like the all round, the sculptural technique that allows you to sculpt a three-dimensional figure isolated in space without background planes, even the design selected by Le Civette sul Comò has an intrinsic value in itself, which allows you to adapt the accessories and furniture without a pre-arranged location, but for aesthetics and functionality.
With this in mind, the choice of these years to propose a design for children that makes the family, the parents, happy, has led in this 2018 to further select the brands, arriving at a design of the highest quality, both in terms of raw materials and function. Hence the meeting with the Drawin'table team, a drawing board for children, with a minimal and evolutionary design, designed to give vent to creativity and imagination. Totally made in Italy and born from a close-knit team of professionals, Drawin'table is the expression of how a game can become a complement and vice versa, if well designed. Not just a simple table top at the right height, from a Montessori point of view and not only, but also a multi-purpose tool to meet the needs, creativity and art of children.
Drawin'table is a transformable design complement with multiple shades. made of natural birch wood, without the addition of any kind of glue, it has a round shape, with removable pen holder in the center, which offers the possibility to transform everything from a drawing table, to a minimal table top for children's space. And for the more creative, the slate effect is given the go-ahead, with an additional wooden top covered with a blackboard surface to be used with chalk. Last, and even more creative, is the collection of Papers: White, Coloring or educational, these packets of sheets are the expression of the mood of the coloring book, transformed into shelves for fun, coloring or, why not, in the meantime also learn with cognitive exercises in perfect style b/w.
Within the Living XS spin-off of this Fuorisalone that began last November 2017, there will also be an exhibition of additional new furniture, discovered at the latest industry fairs in 2018.
Between brands:
Studio Sirio - Founded in 2017, the young brand Studio Sirio creates carpets for children with a new look.Inspired by the world of fairy tales, have a minimalist style and at the same time modern, to simply adapt to any environment, giving new atmospheres.
PiffanyCopenhagen - is a design-oriented company dedicated to helping customers discover fun and unique products. Constantly on the lookout for new and more interesting artists and designers of accessories, unique items and eye-catching technological products. The mission of PiffanyCopenhagen is to bring a strong personality to every moment of everyday life. It focuses on the distribution of design in Scandinavia and works with new and existing brands. The core business is design distribution, marketing know-how and brand management. It points to new markets, new channels and new networks with an in-depth view of European markets and the design industry. He believes in good design, in finding the right markets and in long-term relationships.
Falcon Enamelware - Originally produced in the Black Country area near Birmingham, England, JoeKleiner&Sons created the original enamel brand, distinctly ice white with a blue border, the classic design is still instantly recognisable to this day. In 2011, the original collection was revitalized - creating new colors and sets of pots and pans together to increase the caliber of the classic cup, making the products more durable and resilient. We continue to expand the range, developing new tools for beautiful and functional products and now sell successfully in over 50 countries around the world. Enamelware is a porcelain cast on large caliber steel, which gives it many admirable qualities - durability, smoothness and chemical resistance. It can take on bright, long-lasting colours and cannot burn. If you drop it, it may chip but will not break. Washable in dishwasher and oven up to 530F / 270C, can also be used on gas hobs