Moulin Roty Activity Placemats
---
Once upon a time in the village of Moulin Roty, a group of friends who had decided to live and work together. Moulin Roty is first and foremost: "Yesterday's toys for today's children", a concept that has evolved to become "Children's Memory".
These placemats will keep your children entertained for hours. Made in France, they consist of 40 large tear-off sheets with 10 different activities: mazes, matching games, difference games and many more!
Practical and fun, all placemats can be coloured and will allow your little one to stimulate his creativity. They are ideal for a birthday party.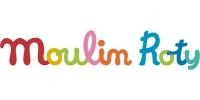 Data sheet
Height: 29,7 cm
Width: 42 cm
Material: Paper
Age: +4 years
TAG: artistic games